How It Works
See how solar, storage, and software come together in the Enphase Home Energy Solution
The Enphase Home Energy Solution combines solar, storage, and powerful monitoring software into an all-in-one energy system. Each component is built to work together to provide your home with reliable energy that maximizes your savings while you're busy living your life.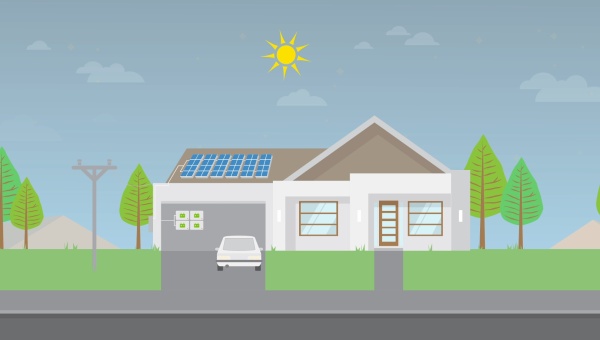 Enphase: How it works
This short animation shows you how solar, storage, and software come together in an all-in-one solar energy system -- maximizing your savings while you're busy living your life.
Want to learn more about going solar? Explore our Homeowner Video Series to get started!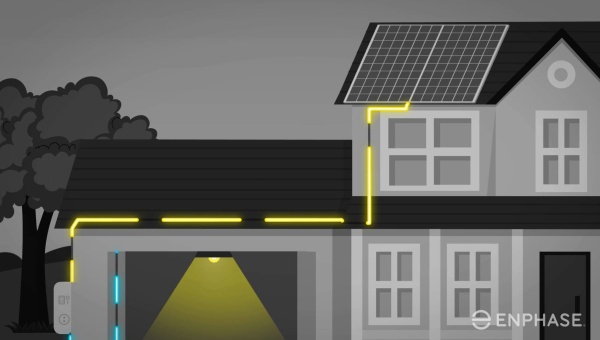 Say "Yes!" to safe AC energy!
Watch this video to learn why Enphase is the safest solar technology for your family.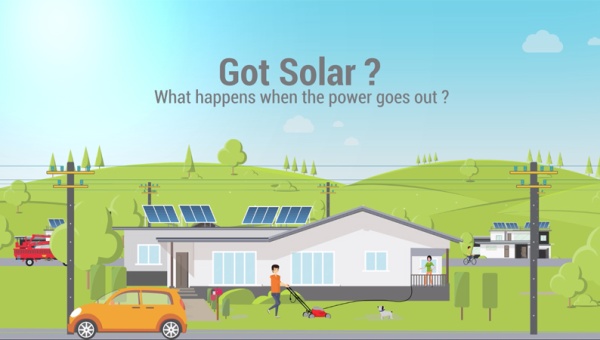 Got solar? What happens when the power goes out?
With traditional, grid-tied solar systems your array will stop producing when there is a power outage...even if the sun is still shining! Watch this video to find out why.
Solar panels may get all the glory, but it's the inverter that does all the work in a solar energy system. Tucked beneath each solar panel, microinverters convert the direct current (DC) power collected from the solar panels to alternating current (AC), the form of electricity your home can use.
Choosing the right inverter technology for your system is one of the most critical decisions to make when going solar. Enphase Microinverters offer the most advanced inverter technology on the market, which means higher production, greater reliability, and unmatched intelligence.
Learn more about Enphase Microinverters:
The Envoy is the communications and control center behind your energy system. This small device is the networking and command hub of your system, and it's responsible for monitoring your system's performance by collecting real-time data from your microinverters. 
The Envoy also employs bi-directional communication, meaning that it delivers system updates from the Web to your microinverters, allowing you or your installer to pinpoint performance issues and resolve them remotely before they get in the way of your system's performance.
If your system has storage, the Envoy also manages charge and discharge of the AC Batteries.
Want to learn more about the Enphase Envoy? Take a look at some frequently asked questions in the homeowner support center.
Consumption monitoring is an optional feature of the Enphase system that measures the energy usage in your home. You may hear consumption monitoring referred to as energy usage monitoring or consumption metering. These terms are largely interchangeable, with a couple of nuances. You monitor or view your consumption on the MyEnlighten interface. Consumption metering refers to the hardware installed to enable the monitoring. Click here to learn more about consumption monitoring
Systems installed with consumption monitoring will also have production metering installed. Production metering provides a greater level of accuracy for reporting purposes and is suitable for billing applications, like those required for leased systems or for utility feed-in tarrifs or for particpation an SREC market.
If you are interested in production or consumption monitoring, please contact your installer about these optional features. Your installer will assess your site and make a determination about whether your electrical service panel will support the installation of the required hardware. If your installer is unfamiliar with this feature, we have a wealth of online resources and classes to get them up to speed.
Production and consumption meters are required for storage with Enphase AC Batteries.
MyEnlighten is cloud-based software that gives you a real-time, in-depth view of your system's production and energy consumption. You can use MyEnlighten to track your system's performance, monitor your system's health, and share data with family and friends. You can download the MyEnlighten app from the Apple Store or Google Play.
Want to learn more about MyEnlighten? Head over to the monitoring page, or take a look at some common questions in the homeowner support center.
If you choose to store the energy that you produce, your system may include the Enphase AC Battery. The AC Battery solves the basic dilemma of solar energy -- while your system produces the most energy midday, most households use the most energy in the morning and evening. With storage, you can save the energy you produce during the day and use it when you need it most.
The Enphase storage solution is modular, which means that smaller systems may have two or three AC Batteries, while larger systems will have more. The modular approach means that you can start small and add AC Batteries if you want to expand your system down the road.
Learn more about storage:
In addition to the above Enphase components, your system will also include photovoltaic (PV) solar panels (also called "modules"). Solar panels are made up of many solar cells, which turn the sun's energy into direct current (DC) electricity. This energy is passed to the microinverter, which converts it to alternating current (AC) power.
There are a wide range of solar panels that come in a variety of colors, sizes, and materials. While Enphase doesn't manufacture solar panels, we work with module partners to produce the AC Module, which combines our microinverter with a solar module into one integrated unit. Your solar installer can help you pick out the right solar panel for your system.
Your system will also include a mounting system (also called solar module racking), which is the equipment that attaches your panels and microinverters to your roof or the ground. These materials and components may vary depending on your local weather patterns, roof material, etc.
These additional components may include:
Mounting rails, which are attached directly to the roof
Module clamps, which secure the solar panel to the mounting rail
Pole mounts, foundation mounts or ballasted footing mounts for ground-mounted systems
Your solar installer will typically recommend a mounting system and select the additional components that are required.